Projects
Schliessanlage
Cat5 Cable Checker

Einschaltverzögerung
Belichtungstimer
Exposure Timer 2

Solder Station

Slave Flash

MP3 Player

MP3 Player Touch

Home Automisation

Can Bus Schield for Banana Pi

PCBs
Veroeffentlichungen
Exposure timer 2
Hardware

Schematic of panel:



Schematic of mains: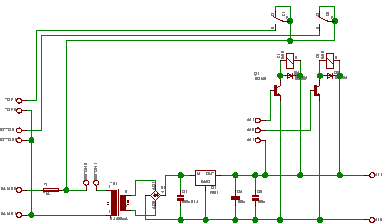 In the schematic some resistor values are missing:
For the Basis-Resistors you can use 1k to 4.7k.
As series resistance for the LEDs is dependent of the efficiency of YOUR LEDs and the brightness you want. In most cases 100 to 330 Ohm will do.